This Monstrous Thing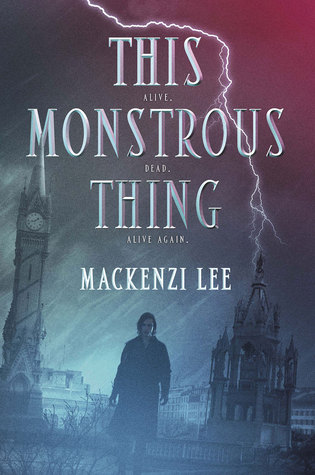 Waiting on Wednesday is a meme hosted by
Jill at BreakingtheSpine
in which we spotlight a new release we can't wait to get our hands on.
Title: This Monstrous Thing
Author: Mackenzie Lee
Expected Release Date: September 22, 2015
Publisher: Katherine Tegen Books
Page Count: 384
Synopsis:
In 1818 Geneva, men built with clockwork parts live hidden away from society, cared for only by illegal mechanics called Shadow Boys. Two years ago, Shadow Boy Alasdair Finch's life shattered to bits.
His brother, Oliver—dead.
His sweetheart, Mary—gone.
His chance to break free of Geneva—lost.
Heart-broken and desperate, Alasdair does the unthinkable: He brings Oliver back from the dead.
But putting back together a broken life is more difficult than mending bones and adding clockwork pieces. Oliver returns more monster than man, and Alasdair's horror further damages the already troubled relationship.
Then comes the publication of Frankenstein and the city intensifies its search for Shadow Boys, aiming to discover the real life doctor and his monster. Alasdair finds refuge with his idol, the brilliant Dr. Geisler, who may offer him a way to escape the dangerous present and his guilt-ridden past, but at a horrible price only Oliver can pay…
Why I Need It!
I've been eyeing this book on goodreads for a while. So, I finally decided to feature it on my WOW! If you have been following my account you know I love retelling's! This book sounds like is going to be an awesome Frankenstein retelling and like it would be a perfect October read! What book are you looking forward to? Leave a comment below! I would love to hear from you!