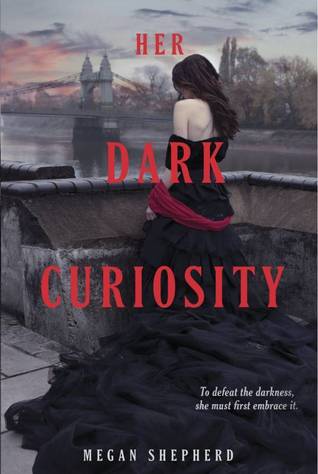 Title: Her Dark Curiosity
Author: Megan Shepherd
Date Published: January 28, 2014
Publisher: Balzer + Bray
Page Count: 420
Synopsis:
Months have passed since Juliet Moreau returned to civilization after escaping her father's island—and the secrets she left behind. Now, back in London once more, she is rebuilding the life she once knew and trying to forget Dr. Moreau's horrific legacy—though someone, or something, hasn't forgotten her.
As people close to Juliet fall victim one by one to a murderer who leaves a macabre calling card of three claw like slashes, Juliet fears one of her father's creations may have also escaped the island. She is determined to find the killer before Scotland Yard does, though it means awakening sides of herself she had thought long banished, and facing loves from her past she never expected to see again.
As Juliet strives to stop a killer while searching for a serum to cure her own worsening illness, she finds herself once more in the midst of a world of scandal and danger. Her heart torn in two, past bubbling to the surface, life threatened by an obsessive killer—Juliet will be lucky to escape alive.
With inspiration from Robert Louis Stevenson's The Strange Case of Dr. Jekyll and Mr. Hyde, this is a tantalizing mystery about the hidden natures of those we love and how far we'll go to save them from themselves.
My Thoughts:
In this book we follow Juliet after she left the Island that still haunts her dreams, just when Juliet thinks that her life is changing for the better, bodies of people that she use to be close to start appearing with similar claw like slashes as the bodies from the island. Juliet fears that one of her father's creations has escaped the island and is determined to find the killer herself, while also trying to find a cure for her growing illness.
I enjoyed this book even more than the first one, I have never read Dr. Jekyll and Mr. Hyde but I have seen movies and I think this novel retells it really well. The Creepiness is very present in this one, also Juliet is a little nuts but I liked Juliet embracing her darkness. Some of the surprises in this book where just, I can't even explain it without making this a spoiler review; I'll just say they made me really happy. I love the gothic historical fiction in this book, the book itself is just written very well. The ending oh the ending had me hiding under my covers, she did it to me again she is going to kill me with this plot twists.
I don't want to make this a spoiler review, so all I will say is if you haven't picked this trilogy up you really should, especially if you like historical fictions. I devoured this book and I wished I hadn't because I don't own the last book so now I have to wait until tomorrow to run to my local bookstore and get it. One more thing isn't the cover just gorgeous?!