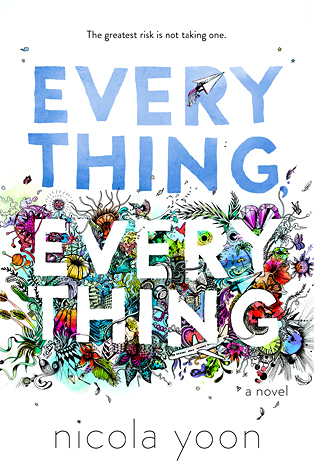 Waiting on Wednesday is a meme hosted by Jill at BreakingtheSpine in which we spotlight a new release we can't wait to get our hands on.
Title: Everything, Everything
Author: Nicola Yoon
Expected Release Date: September 1st, 2015
Publisher: Delacorte Books for Young Adults
My disease is as rare as it is famous. Basically, I'm allergic to the world. I don't leave my house, have not left my house in seventeen years. The only people I ever see are my mom and my nurse, Carla.
But then one day, a moving truck arrives next door. I look out my window, and I see him. He's tall, lean and wearing all black—black T-shirt, black jeans, black sneakers, and a black knit cap that covers his hair completely. He catches me looking and stares at me. I stare right back. His name is Olly.
Maybe we can't predict the future, but we can predict some things. For example, I am certainly going to fall in love with Olly. It's almost certainly going to be a disaster
Why I need it in my Collection
:
This book sounds so cute and I've never heard of a disease where you can't set foot outside, so this topic definitely interests me. Also I've really been in the mood for contemporaries and this book seems like the perfect read. What book are you e

xcited for? Leave a comment below; I would love to hear from you. This cover is just gorgeous as well!