Book Review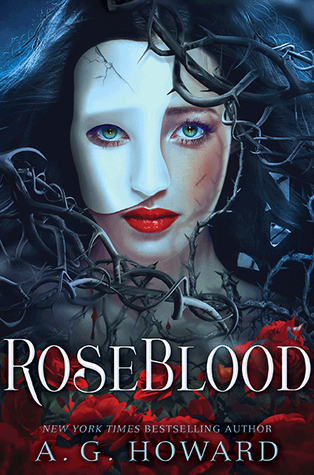 Title: Roseblood
Author: A.G. Howard
Rating: ★★★
Date Published: January 10, 2017
Publisher: Harry N. Abrams
Page Count: 432
Synopsis:
In this modern day spin on Leroux's gothic tale of unrequited love turned to madness, seventeen-year-old Rune Germain has a mysterious affliction linked to her operatic talent, and a horrifying mistake she's trying to hide. Hoping creative direction will help her, Rune's mother sends her to a French arts conservatory for her senior year, located in an opera house rumored to have ties to The Phantom of the Opera.
At RoseBlood, Rune secretly befriends the masked Thorn—an elusive violinist who not only guides her musical transformation through dreams that seem more real than reality itself, but somehow knows who she is behind her own masks. As the two discover an otherworldly connection and a soul-deep romance blossoms, Thorn's dark agenda comes to light and he's forced to make a deadly choice: lead Rune to her destruction, or face the wrath of the phantom who has haunted the opera house for a century, and is the only father he's ever known
My Thoughts:
I received an Ecopy from NetGalley and Abrams in exchange for an honest review.
When I saw that my favorite author was releasing a new novel, I was beyond excited; when I read it was a Phantom of the Opera retelling my excitement was at an all time high. A.G. Howard has a way of taking a story and making it completely unique and her own. Unfortunately, it was very difficult for me to get invested in the story.

I gave this novel three stars because it just did not meet my expectations, I love Howard, I loved her Splintered series and I was hoping to love this novel as much as I do that series, but it just did not do it for me.
In this retelling the main character is not the Phantom, it is Rune who is the Christine in our story, she has the beautiful gift of music, but as of late it has become more of a curse, she has no idea where her "gift" came from or why she has it. I enjoyed reading about Rune, she had amazing character growth throughout the novel, I liked learning where her gift came from and seeing her take control of it.
Thorn is our love interest and the reason I kept going, I wanted to know everything about his broken and mysterious past! Unfortunately, there wasn't as many chapters with him as I would have liked, but the ones he was in would suck me in and had me turning the page wanting more.
The main reason I didn't give this novel more stars was because it was a very slow, it took me a month to get trough it and it usually takes me a week to finish a novel that size. The story did not catch my attention until more than halfway in, that's when the story got very fast paced. I think Howard concentrated a lot in the character growth and that is not necessarily a bad thing, but it did make for a very slow-paced novel.