Book Review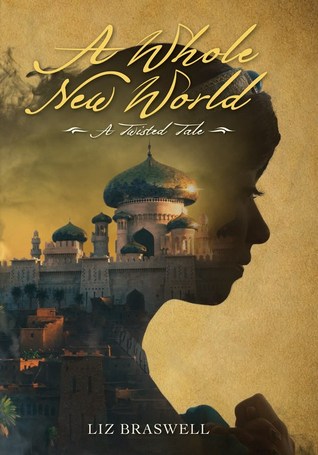 Title: A Whole New World
Author: Liz Braswell
Rating: ★★★
Publication Date: September 1st,2015
Publisher: Disney Press
Page Count: 384
Genre: YA Fantasy
Synopsis:
Welcome to a new YA series that re-imagines classic Disney stories in surprising new ways. Each book asks the question: What if one key moment from a familiar Disney film was changed? This dark and daring version of
Aladdin
twists the original story with the question: What if Jafar was the first one to summon the Genie?
When Jafar steals the Genie's lamp, he uses his first two wishes to become sultan and the most powerful sorcerer in the world. Agrabah lives in fear, waiting for his third and final wish.To stop the power-mad ruler, Aladdin and the deposed Princess Jasmine must unite the people of Agrabah in rebellion. But soon their fight for freedom threatens to tear the kingdom apart in a costly civil war.
What happens next? A Street Rat becomes a leader. A princess becomes a revolutionary. And readers will never look at the story of
Aladdin
in the same way again.
My Thoughts:
First I want to thank Netgalley and Disney Press for being kind enough to provide me with an Ecopy in exchange for an honest review.
This book was not at all what I expected it to be. I'm going to be giving it 3 stars because even though I didn't love it how I thought I was, I didn't hate it. I might be in the minority saying this, but towards the middle I did start enjoying the story a bit more, but with that said it did have some flaws. This book is a retelling of Aladdin, but in this story instead of Aladdin getting the lamp it's Jafar who gets it and summons the genie. I did like the twist and the action the author hit me with towards the end I was not expecting it; I also really liked how the author told us a little more about Aladdin's and Jasmines past. One of my problems with this book was that it didn't have enough Jafar or Genie in my opinion, I really wanted to see more of both and unfortunately that doesn't happen until the end also the first 28% of the book was exactly like the movie and that made it a little boring, but if you can get past that the story does get better.
At this point I do not know if I will be continuing with the series.