Book Review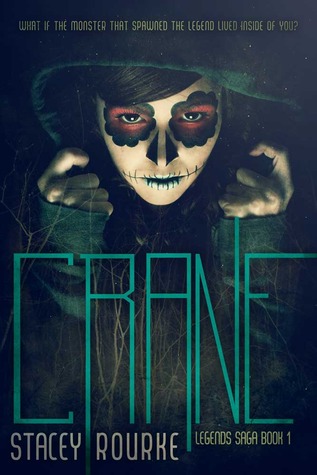 Title: Crane
Author: Stacey Rourke
Rating: ★★★★★
Date Published: May 26, 2014
Publisher: Anchor Group Publishing
Page Count: 298
Gere: Paranormal
Synopsis
The Horseman is unending,
his presence shan't lessen.
If you break the curse,
you become the legend.
Washington Irving and Rip Van Winkle had no choice but to cover up the deadly truth behind Ichabod Crane's disappearance. Centuries later, a Crane returns to Sleepy Hollow awakening macabre secrets once believed to be buried deep.
What if the monster that spawned the legend lived within you?
Now, Ireland Crane, reeling from a break-up and seeking a fresh start, must rely on the newly awakened Rip Van Winkle to discover the key to channeling the darkness swirling within her. Bodies are piling high and Ireland is the only one that can save Sleepy Hollow by embracing her own damning curse.
But is anyone truly safe when the Horseman rides?
My Thoughts:
The author was kind enough to provide me with an Ecopy of this book in exchange for an honest review.

This book was freaking AMAZING!! I loved it so much! I love anything that has to do with Sleepy Hollow and The Headless Horseman and Stacey wrote the perfect retelling. Ireland is going through a horrible break up and decided to move to the town of Sleepy Hollow in search of a new start it is there where she wakes Rip from a year's sleep and finds out that darkness is trying to take over her and the only person that can help her is Rip.
I loved every second of this book from the first page to the last! When I saw I was almost done with the book I couldn't believe it, it didn't seem like I had been reading for that long this book just sucks you in and you lose track of time; that's how good it is. This book gave me goosebumps and made me laugh like crazy and I absolutely loved it. Rip was such a witty character and I immediately fell in love with him; Ireland was such a strong character I loved everything about her she had me grabbing my sides towards the end, but to find out why you will have to read the book because I don't want to spoil it for you. Stacey's writing is phenomenal! Like I said it sucks you into the book and it's like you're right there next to the characters and not many writers can do that; the twist she hit me with had me at the edge of my seat and up to the wee hours of the night. This book is told in Ireland's and Ichabod's perspective and it just perfect because it helps you understand the Headless Horseman's story even more.
If you have not picked this book up yet, what are you waiting for? Everyone should read this book especially if you love Thrillers and Sleepy Hollow. This book will not disappoint! Its absolute perfection!