Book Review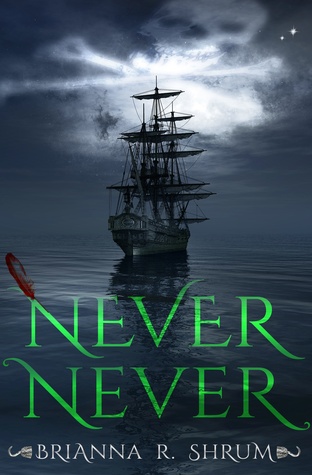 Title: Never Never
Author: Brianna R. Shrum
Rating:
★★★★★
Date Published:
September 22, 2015
Publisher: Spencer Hill Press
Page Count: 368
Genre: Fantasy Retelling
Synopsis:
James Hook is a child who only wants to grow up.
When he meets Peter Pan, a boy who loves to pretend and is intent on never becoming a man, James decides he could try being a child—at least briefly. James joins Peter Pan on a holiday to Neverland, a place of adventure created by children's dreams, but Neverland is not for the faint of heart. Soon James finds himself longing for home, determined that he is destined to be a man. But Peter refuses to take him back, leaving James trapped in a world just beyond the one he loves. A world where children are to never grow up.
But grow up he does.
And thus begins the epic adventure of a Lost Boy and a Pirate.
This story isn't about Peter Pan; it's about the boy whose life he stole. It's about a man in a world that hates men. It's about the feared Captain James Hook and his passionate quest to kill the Pan, an impossible feat in a magical land where everyone loves Peter Pan.
My Thoughts:
First I want to thank Netgalley and Spencer Hill Press for providing me with a copy in exchange for an honest review.

I really enjoyed this book, reading in Hook's perspective was very refreshing and a very different take on Peter Pan. Hook is a normal boy living in London that can't wait to be a grown up, that is until the day he meets Peter Pan who introduces young Hook to fairies, magic, and tells him all about Neverland; after hearing about the amazing world Peter comes from, Hook decides that he wants to spend his vacation in Neverland but after he spends some time there he realizes that Neverland and Peter are not as great as he thought. This book kept me up to the wee hours of the night! I really enjoyed reading about Hooks descend
into darkness and how his hatred for the Pan (as he calls him) came to be. I felt so much for Hook and all that he lost when Pan refused to take him back home to his family, but as much as I tried to hate Pan I just couldn't my emotions for Pan where all over the place, even though Shrum showed me a more sinister side to him; I kept making excuses for him the main one being that he was child and he couldn't comprehend why someone would want to grow up or be with their parents.
The love interest in this book had me in an emotional roller coaster, I loved it so much! Hook and Tiger Lily were perfect for each other.The ending and cliffhanger, were done so well, I was not expecting it at all! I need the second book as soon as possible! I need to know what happens to Hook, his crew, the lost boys and of course Pan. I really loved this retelling and how it stayed true to the original, even Wendy and her brothers make an appearance toward the end. If you are looking for a good villain story or just in the mood for a book with pirates, this is the book for you.