Book Review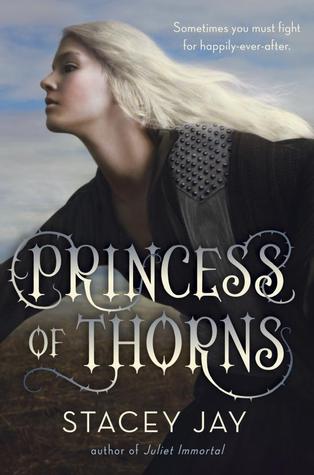 Title: Princess of Thorns
Author: Stacey Jay
Date Published: December 9, 2014
Publisher: Delacorte Press
Genre: YA Fantasy
Synopsis:
Game of Thrones meets the Grimm's fairy tales in this twisted, fast-paced romantic fantasy-adventure about Sleeping Beauty's daughter, a warrior princess who must fight to reclaim her throne.
Though she looks like a mere mortal, Princess Aurora is a fairy blessed with enhanced strength, bravery, and mercy yet cursed to destroy the free will of any male who kisses her. Disguised as a boy, she enlists the help of the handsome but also cursed Prince Niklaas to fight legions of evil and free her brother from the ogre queen who stole Aurora's throne ten years ago.
Will Aurora triumph over evil and reach her brother before it's too late? Can Aurora and Niklaas break the curses that will otherwise forever keep them from finding their one true love?
My Thoughts:
Wow, this book just wow! I wouldn't call this book a retelling of Sleeping Beauty It's more like a continuation of what happens after Sleeping Beauty marries her prince and has her children. In this wonderfully written novel, we follow the children of Sleeping Beauty Aurora to whom Sleeping beauty gave her Fairy blessings to even though the blessings were given with good intentions sometimes they can turn into curses and her brother Jor who has been captured by the Ogre Queen.
When Aurora is taken prisoner by mercenaries she meets cursed Prince Niklaas, who believes her to be her brother Jor that is when Aurora decided to disguise herself as her brother. She promises to take Niklaas to his sister who he wants to marry as long as he helps her gather an army to save a "friend" the Queen has captured.
This retelling is so different from others I have read. Most of the retellings usually center on the main character of the story they're retelling, It's rare when you find one that goes into what happened after the happily ever after. The world building in this novel was beautifully done and the character development very well written. Aurora is a very likable character; she is very head strong, stubborn, cares too much, and loves too hard which is very relatable. Niklaas on the other hand at the beginning of the story you want to slap him around, some of the things he says, but his character development through the book is perfection and you just want to take him out of the book and give him a big hug.
This book is full of adventure and the perfect amount of romance. I love this book so much! I have read other books by the lovely Stacey Jay (Of Beast and Beauty and Juliet Immortal) which I loved. I have always loved her writing that's why I was surprised when she was dropped by her publisher and after reading Princess of Thorns I'm even more in shock the book is really good. How could they drop a book that is good, but having said that I recommend this book to everyone! I promise you will love it!