Book Review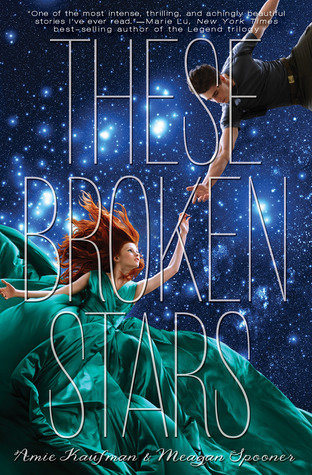 Title: These Broken Stars (Starbound #1)
Author: Amie Kaufman - Meagan Spooner
Date Published: December 10, 2013.
Publisher: Disney Hyperion
Page Count: 374
Synopsis:
Luxury spaceliner Icarus suddenly plummets from hyperspace into the nearest planet. Lilac LaRoux and Tarver Merendsen survive -- alone. Lilac is the daughter of the richest man in the universe. Tarver comes from nothing, a cynical war hero. Both journey across the eerie deserted terrain for help. Everything changes when they uncover the truth.
My Thoughts:
This is my first Sci-fi, survival book and I LOVED IT!! Let me start of by saying how amazingly written the crash of the Icarus was. I felt like I was one of the passengers and I was going down with it. The crash of the Icarus did remind me a lot of the Titanic movie, but that is where the similarities end. This story is so unique.
In this book we follow Mrs. Lilac Larou

x the daughter of the richest man on the universe and Tarver a soldier turned into a war hero, while they try to survive in an abandoned planet; where they wait for rescue that with each passing day seems less likely to be coming.
I immediately fell in love with Tarver and Lilac; the growth these two characters went through in the book was

extraordinary. Especially by Lilac she was a very strong character and she showed that she was more than just a rich girl in high heels.

The reason I gave these book four stars and not five was that some of the things that happened in this world left me scratching my head and some of my questions were left unanswered. If you're into survival books, sci-fi, even paranormal yes, this book had some paranormal aspects you should definitely pick this book up.
I'm so excited to continue with this series; I do believe they are companion novels, so you don't have to read this one to read the second one, but you should definitely read it. Lilac and Tarver's story deserves to be read!