Book Review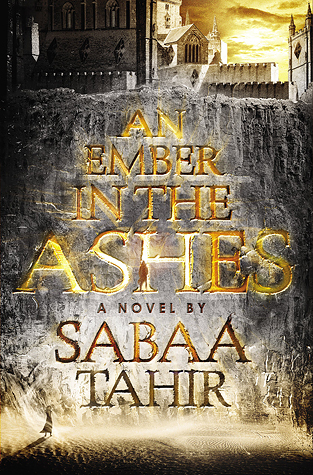 Title: An Ember in the Ashes
Author: Sabaa Tahir
Date Published: April 25, 2015
Publisher: Razorbill
Page Count: 453
Synopsis:
Laia is a slave.
Elias is a soldier.
Neither is free.
Under the Martial Empire, defiance is met with death. Those who do not vow their blood and bodies to the Emperor risk the execution of their loved ones and the destruction of all they hold dear.
It is in this brutal world, inspired by ancient Rome, that Laia lives with her grandparents and older brother. The family ekes out an existence in the Empire's impoverished backstreets. They do not challenge the Empire. They've seen what happens to those who do.
But when Laia's brother is arrested for treason, Laia is forced to make a decision. In exchange for help from rebels who promise to rescue her brother, she will risk her life to spy for them from within the Empire's greatest military academy.
There, Laia meets Elias, the school's finest soldier—and secretly, its most unwilling. Elias wants only to be free of the tyranny he's being trained to enforce. He and Laia will soon realize that their destinies are intertwined—and that their choices will change the fate of the Empire itself
My Thoughts:
WOW this book has just blown my mind. It's sooo good and deserves all the hype that's it's been getting.
Laia has just lost the only family she had left to the Empire, and is determined to find the rebels and ask for their help. When she finally finds the resistance; she is sent as a slave to spy on the Commandant of the Empire's greatest military academy in return the rebels will help Laia free her brother from prison. Is there where Laia meets soldier Elias and they will soon find out that their destinies are somehow intertwine and that Laia will provide Elias with the freedom he has so desperately been looking for.
This book is definitely one of my 2015 favorites Sabaa Tahir's writing is superb. I immediately fell in love with Laia and Elias. Their character building threw out the novel was written really well. This book is full of action from the moment you start it to the moment you finish and has the perfect amount of romance.
I have never read anything like it, I'm so glad that they decided to make a sequel since the book ends with a cliffhanger and I couldn't go on the rest of my life not knowing what happened. I was a little skeptical about this book because of the overhype surrounding it, but it definitely proved me wrong. I definitely recommend you pick this book up if you haven't already. I definitely did a happy dance when I found out about the sequel.
Favorite Quotes from the Book:
"Life is made of so many moments that mean nothing. Then one day, a single moment comes along to define every second that comes after."
" Your an ember in the ashes. You will spark and burn, ravage and destroy. You cannot change it. You cannot stop it."
" You'll never forget them, not even after years. But one day, you'll go a whole minute without feeling the pain. Then an hour. A day. That's all you can ask for, really."