Book Review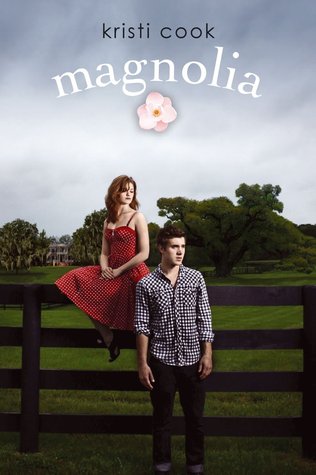 Title: Magnolia
Author: Kristi Cook
Date Published: August 5, 2014
Publisher: Simon & Schuster
Page Count: 336
In Magnolia Branch, Mississippi, the Cafferty and Marsden families are southern royalty. Neighbors since the Civil War, the families have shared vacations, holidays, backyard barbecues, and the overwhelming desire to unite their two clans by marriage. So when a baby boy and girl were born to the families at the same time, the perfect opportunity seemed to have finally arrived.
Jemma Cafferty and Ryder Marsden have no intention of giving in to their parents' wishes. They're only seventeen, for goodness' sake, not to mention that one little problem: They hate each other! Jemma can't stand Ryder's nauseating golden-boy persona, and Ryder would like nothing better than to pretend stubborn Jemma doesn't exist.
But when a violent storm ravages Magnolia Branch, it unearths Jemma's and Ryder's true feelings for each other as the two discover that the line between love and hate may be thin enough to risk crossing over.
I LOVED this book! It was the light, fluffy read I needed to get me out of my reading slump.
Jemma and Ryder have known each other since they were born and their family the Cafferty's and Marsden's have known each other since the civil war and have been dying to unite both families by marriage, and now that Jemma and Ryder have been born they finally can. There is just one problem Jemma and Ryder hate each other and have no intention of making their family's dreams come true. Until a violent storm hits Magnolia Branch and they're forced to spend a whole week together and their true feelings for each other begin to surface.
This book reminded me of Romeo and Juliet but turned upside down. I loved how the love story wasn't insta love that Jemma and Ryder had known each other their whole lives, but they just didn't know how they felt about each other. I loved the Mississippi setting and that they lived in old plantation homes it just made the read so much better; the southern feel to it. Also Jemma was kind of bad azz I liked how she was captain of the cheerleaders, but she also had the best shot in Mississippi.
If you're in the mood for a light contemporary with a summery feel to it, look no further this book is perfect, or if you're in a reading slump this book will definitely get you out of it. A plus Ryder is so HOT and I need more of him in my life. I read this book in one sitting, that's how good it is. If you
haven't
picked it up you definitely should.