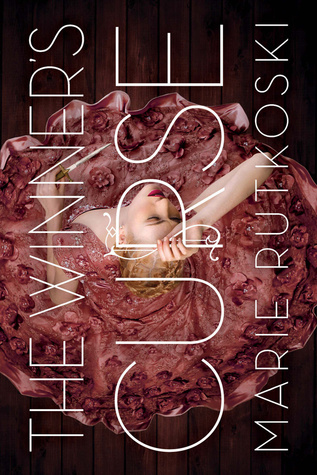 Title: The Winner's Curse
Author: Marie Rutkoski
Date Published: March 4th, 2014
Publisher:

F

arrar Straus Giroux
Page Count: 355
Winning what you want may cost you everything you love...
As a general's daughter in a vast empire that revels in war and enslaves those it conquers, seventeen-year-old Kestrel has two choices: she can join the military or get married. But Kestrel has other intentions.
One day, she is startled to find a kindred spirit in a young slave up for auction. Arin's eyes seem to defy everything and everyone. Following her instinct, Kestrel buys him—with unexpected consequences. It's not long before she has to hide her growing love for Arin.
But he, too, has a secret, and Kestrel quickly learns that the price she paid for a fellow human is much higher than she ever could have imagined.
Set in a richly imagined new world, The Winner's Curse by Marie Rutkoski is a story of deadly games where everything is at stake, and the gamble is whether you will keep your head or lose your heart.
Our main character Kestrel is the daughter of a General in a new Empire that revels in war and enslaves those it conquers. One afternoon while Kestrel is out with her friend she stumbles to a slave auction where she purchases Arin, as Kestrel spends more time with Arin she starts to realize she has grown feelings for him. As if her life is not complicated enough, she has to choose between joining the army and leaving her passion for music behind or getting married to someone she does not love.
I loved, loved, loved this book there isn't enough loves to describe how much I adored this book. The writing is perfection and the love that grows between Kestrel and Arin is so complex

and different from many other young adult books. I immediately fell in love with Arin; I just loved the way he didn't let anyone push him around. As for Kestrel my feelings toward her are a little complicated. I don't hate her but I didn't fall in love with her character as I did for Arin's, especially with what happened in the ending. I also felt the things she would throw in Arin's face were a little hypocritical in her part, but I still felt bad for her and I understand how her feelings were between doing the right thing for her people or sticking with the man she loved.
All I have left to say is, if you haven't picked this book up what are you doing with your life? No but really if you have not picked this book up, you really should the story is very different from others and the feels oh the feels. I can't wait to get my hands on The Winner's Crime. Hope you enjoyed my review! If you have read this book, let me know how you liked it in the comment section below. I would love to hear from you!