Book Review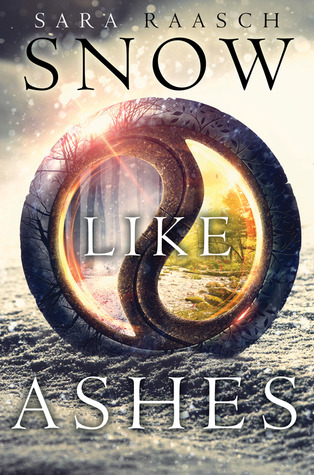 Title: Snow Like Ashes
Author: Sara Raasch
Date Published: October 14, 2014
Publisher: Balzer + Bray
Page Count: 416
Meet the Author: Sara Raasch
Synopsis:
Sixteen years ago the Kingdom of Winter was conquered and its citizens enslaved, leaving them without magic or a monarch. Now, the Winter's' only hope for freedom is the eight survivors who managed to escape, and who have been waiting for the opportunity to steal back Winter's magic and rebuild the kingdom ever since.
Orphaned as an infant during Winter's defeat, Meira has lived her whole life as a refugee, raised by the Winterians' general, Sir. Training to be a warrior—and desperately in love with her best friend, and future king, Mather — she would do anything to help her kingdom rise to power again.
So when scouts discover the location of the ancient locket that can restore Winter's magic, Meira decides to go after it herself. Finally, she's scaling towers, fighting enemy soldiers, and serving her kingdom just as she's always dreamed she would. But the mission doesn't go as planned, and Meira soon finds herself thrust into a world of evil magic and dangerous politics – and ultimately comes to realize that her destiny is not, never has been, her own.
My Thoughts:
It's

been sixteen years since the Spring Kingdom attacked the Winter Kingdom and enslaved the Winterians. The eight that were able to escape have been trying to recover their kingdoms magic to restore it and free the Winterians. Meira and orphaned girl along with Sir the man who raised her and Mather Winters king will stop at nothing until they see Winter restored.
When I read the synopsis I was intrigued by the fact that the kingdoms were divided by seasons; I thought to myself this book is going to be very interesting. It was also a cover buy because let's admit it the cover is gorgeous.
I loved everything about this book! The author's world building took my breath away, the way she described each Kingdom was beautiful. I also grew much attached to the main character; I liked the way she didn't take crap from anyone and kicked butt. The love interest in this book is very minimal and made me want so much more of Prince Theron and King Mather. I cried with the ending of this book. I'm probably the only one that did, but I just loved it so much!
This book is a must read! If you haven't picked it up yet; what are you waiting for? If you like fantasies or books with loads of action in it, you should definitely pick this book up. I can't wait for October; so I can get my hands on Ice like Fire. I just know it will be as epic as Snow like Ashes.