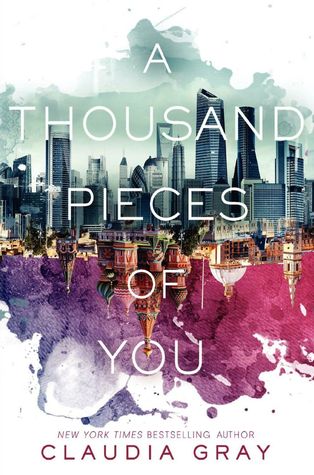 Title: A Thousand Pieces of You
Author: Claudia Gray
Date Published: November 4, 2014
Publisher: Harper Teen
Page Count: 368
Synopsis:
Marguerite Caine's physicist parents are known for their radical scientific achievements. Their most astonishing invention: the Firebird, which allows users to jump into parallel universes, some vastly altered from our own. But when Marguerite's father is murdered, the killer—her parent's handsome and enigmatic assistant Paul—escapes into another dimension before the law can touch him.
Marguerite can't let the man who destroyed her family go free, and she races after Paul through different universes, where their lives entangle in increasingly familiar ways. With each encounter she begins to question Paul's guilt—and her own heart. Soon she discovers the truth behind her father's death is more sinister than she ever could have imagined.
A Thousand Pieces of You explores a reality where we witness the countless other lives we might lead in an amazingly intricate multiverse, and ask whether, amid infinite possibilities, one love can endure
My Thoughts:
In this amazing novel we follow our main character Marguerite and her father's assistant Theo; while they travel through dimensions in pursuit of her father's murderer Paul. While Marguerite travels through these universes and lives her different life's, she starts to question Paul's guilt and her feelings toward him. When she discovers the truth behind her father's death she realizes how wrong everything she thought she knew was.
Holy Crap! Words cannot express my love for this book! This book was phenomenal, it immediately sucked me in. Getting to know all this alternate universes what just the beginning this book just blows your mind yes, my mind was blown. This book is definitely going on my 2015 favorites. It was so good. I read it in one sitting and gods forbid anyone bothered me while I was reading it.
Gray's world building and writing is beyond superb, she had me thinking I knew exactly was coming, and then she would do a complete 180 spin on me, that would just blow me away. The character development was great also Marguerite was one kick ass character and for the boys especially Paul let's just say I have another fictional boyfriend added to my ever growing list.
Overall if you can't tell already, this book is amazing and you HAVE to read it! It's going to kill me to have to wait until November to read the next book, but in the mean time I may just reread it and keep fangirling over this amazing, amazing book. Also the cover is just gorgeous so you should go but it; it will look beautiful in your bookshelf.