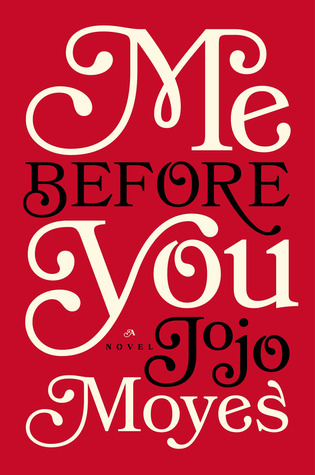 Title: Me Before You
Author: JoJo Moyes
Date Published: December 31, 2012
Publisher: Penguin
Page Count: 369
Synopsis:
Lou Clark knows lots of things. She knows how many footsteps there are between the bus stop and home. She knows she likes working in The Buttered Bun tea shop and she knows she might not love her boyfriend Patrick.
What Lou doesn't know is she's about to lose her job or that knowing what's coming is what keeps her sane.
Will Traynor knows his motorcycle accident took away his desire to live. He knows everything feels very small and rather joyless now and he knows exactly how he's going to put a stop to that.
What Will doesn't know is that Lou is about to burst into his world in a riot of colour. And neither of them knows they're going to change the other for all time.
My Thoughts:
When Lou lost her job she had no idea she would end up working for Will, and Will never imagined that his new caregiver Lou would fill his life with a riot of color.
Warning this is not a love story, but it's equally as beautiful. The author ripped my heart out, tore it into pieces, while I sat in a poodle of my sorrow. This book is so beautifully written; I loved every second of Will's and Lou's story. It was very different from what I'm used to reading, this book broke my heart into a million pieces and I'm not even mad. It hit me right in the feels.
I'm keeping this review short and sweet because I don't want to spoil this book for anyone. If you're looking for something to destroy you emotionally; look no further this book is it. Also there's a sequel coming out in the fall, so it's the perfect time to pick this one up while you wait for the sequel. In another note these book is being adapted into a movie as well (what book isn't at this point) but before you go and sit in the theatre to cry your eyes out; make sure you read the book. The book is always better than the movie.