Book Review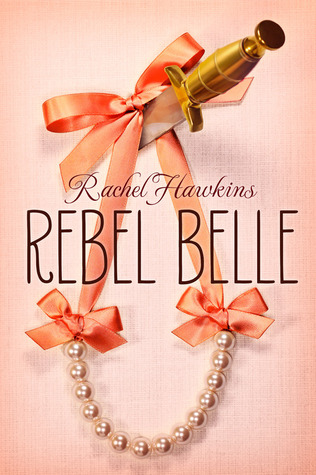 Title: Rebel Belle
Author: Rachel Hawkins
Date Published: April 8th, 2014
Publisher: Putnam Juvenile
Page Count: 352
Harper Price, peerless Southern belle, was born ready for a Homecoming tiara. But after a strange run-in at the dance imbues her with incredible abilities, Harper's destiny takes a turn for the seriously weird. She becomes a Paladin, one of an ancient line of guardians with agility, super strength and lethal fighting instincts.
Just when life can't get any more disastrously crazy, Harper finds out who she's charged to protect: David Stark, school reporter, subject of a mysterious prophecy and possibly Harper's least favorite person. But things get complicated when Harper starts falling for him—and discovers that David's own fate could very well be to destroy Earth.
With snappy banter, cotillion dresses, non-stop action and a touch of magic, this new young adult series from bestseller Rachel Hawkins is going to make y'all beg for more.
Our main character Harper has it made, she's captain of the cheerleading squad, has a perfect boyfriend, amazing friends and she's about to be crowned homecoming queen. On the night of homecoming Harper has a strange encounter with the school janitor, which leaves her with amazing abilities that change her entire life. Harper begins to research her new found powers and realizes that she has become a paladin and that she has to protect her least favorite person in the world David Stark.
This book was such a quick fun read. I really liked learning about Harper's new powers and why she has to protect David. Also the twist at the end really shocked me; I mean how those three are supposed to work together, is beyond me. I really liked Rachel's writing style it was so easy to read and the way she described scenes, just sucked you into the book. Even though I really enjoyed this book I did had some problems with Harper, at the beginning of the book I found her a little snobby, but as the book continued her priorities changed and so did her attitude. I really grew to love her character and David Stark.
I can't wait to continue this series! I do believe Miss. Mayhem was released today, and a plus for these books, the covers are just gorgeous. It took me a while to pick this book up, but I'm glad I did. If you're looking for a fun, fast read full of action I really recommend this book. Have you read this book? If so, what where your thoughts on it? Leave a comment below. I would love to hear from you.