Book Review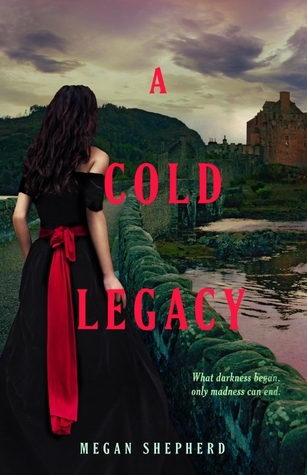 Title: A Cold Legacy
Author: Megan Shepherd
Date Published: January 27th, 2015
Publisher: Balzer + Bray
Page Count: 390
Synopsis:
After killing the men who tried to steal her father's research, Juliet—along with Montgomery, Lucy, Balthazar, and a deathly ill Edward—has escaped to a remote estate on the Scottish moors. Owned by the enigmatic Elizabeth von Stein, the mansion is full of mysteries and unexplained oddities: dead bodies in the basement, secret passages, and fortune-tellers who seem to know Juliet's secrets. Though it appears to be a safe haven, Juliet fears new dangers may be present within the manor's own walls.
Then Juliet uncovers the truth about the manor's long history of scientific experimentation—and her own intended role in it—forcing her to determine where the line falls between right and wrong, life and death, magic and science, and promises and secrets. And she must decide if she'll follow her father's dark footsteps or her mother's tragic ones, or whether she'll make her own.
With inspiration from Mary Shelley's Frankenstein, this breathless conclusion to the Madman's Daughter trilogy is about the things we'll sacrifice to save those we love—even our own humanity.
My Thoughts:
In this final book of the trilogy Juliet, Montgomery, Edward and Lucy runaway to Elizabeth's Von Steins estate in Scotland to avoid the law, As they spent more days in the estate Juliet begins to realize that the mansion holds many mysteries, secret passageways, and oddly enough many dead bodies. Though to the others the mansion feels like a safe haven, Juliet begins to unravel its many secrets and in the way the role she plays in all of it.
I didn't enjoy this book as much as the others, the ending didn't do it for me it seemed to be lacking something. Even though this book was not all I was expecting it to be there where some things I did like, that being some of the surprises the author threw in there that help you understand why Montgomery acted the way he did in the first book she also cleared up a lot of things for me.
The book as a whole was very enjoyable and a fun dark read. I gave the book three and a half stars because like I said the ending was missing something, it just didn't do it for me. Now that I'm finished with this series, I can say I'm really going to miss all the characters. I really grew attached to all of them and can't believe I won't know anything more about them. If you have not picked this trilogy up yet, I really recommend you do it's a very fast and fun dark read. I also enjoyed that all of them were
re tellings
of well-known classics.