Book Review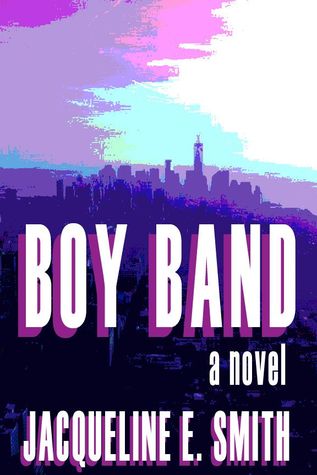 Title: Boy Band
Author: Jacqueline Smith
Date Published: April 21, 2015
Publisher: Wind Trail Publishing
Genre: YA Contemporary/ NA Contemporary
Synopsis:
Sam Morneau is Melissa Parker's best friend. He's also a member of The Kind of September, basically the hottest boy band on the planet.
After two and a half years, Mel is all too familiar with the day-to-day occurrences that come with being a member of the band's inner circle, including hectic schedules, passionate fans, and gossip-mongering celebrity girlfriends.
Now, with the release of the group's third album just weeks away, their lives have never been crazier and Mel is doing everything she can to keep up, all the while trying to cope with the ridiculous rumors that follow the band everywhere they go and pretending that she isn't harboring a secret and hopeless crush on Sam.
It's weird enough being in love with your best friend. It's even weirder when the rest of the world is in love with him, too.
My Thoughts:
I was sent a copy of this novel by the author in exchange for an honest review.
Where do I even start?! This book hooked me from the first chapter, once I began reading it I just couldn't put it down! I finished it in one sitting, literally I sat down to read it at nine pm and finished it around two in the morning. Sam and Melissa are best-friends the only difference about this friendship is that Sam is a member of The Kind of September which also happens to be one of the hottest bands out there, when they blew up Melissa decided to join her friends in this amazing new journey, but seeing the person you love being adored by millions and be hit on a daily basis isn't always the easiest thing to watch.
saw this and thought to myself, I so picture the boys from TKOS doing this! lol
I absolutely adored this book! I couldn't get enough, I wish I had the next book in my possession just to continue reading about these amazing charters I have fallen head over heels in love for. Jacqueline's writing is amazing! It flows so well and you just can't get enough of it. I loved reading about a band and how hectic their lives are out of the public eye and what the boys do with their free time. The ending had me in an emotional roller-coaster one minute I was crying the next I was smiling from ear to ear and then she hit me with a twist that had me rereading just to make sure I had read it right. If you have ever wanted to read about how it's like to live and tour with one of the hottest boy bands, look no further this book is it.