Book Review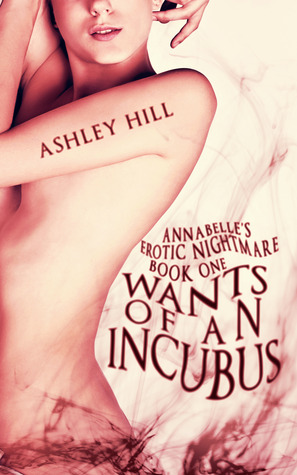 Title: Wants of an Incubus
Author: Ashley Hill
Date Published: November 19, 2013
Genre: Paranormal Fantasy
Page Count: 40
Synopsis:
Nineteen year old Annabelle hasn't seen her boyfriend in months, let alone heard his own voice. One night her emotions take over and she can't help but think of him. When sleep comes, so does her boyfriend. But it's only a dream, right?
Deep down, she knows that this one night stand with the love of her life is but a dream. However the next morning she's in for a shock.
Those nagging feelings she had while with her dream Henry may have been real, telling her that that dream might actually have been a nightmare after all. A nightmare where she may have bonded her soul to a creature that goes bump in the night.
With the help of her mother, who's a witch by the way and in more ways than one, her talking cat and her unwanted desires towards the nightmare that looks like her Henry, Annabelle will have to defeat the demon that has now crept into her life.
Warning: sexual Content
My Thoughts:
I was sent an Ecopy by the author in exchange for an honest review.
Annabelle

hasn't seen her boyfriend for a while and she has been missing him like crazy! One night while she is drifting into sleep she sees him thinking it's just a dream she sleeps with him, but the next morning she finds out that it wasn't and a dream and it wasn't her Henry. Now Annabelle has accidentally bonded herself to a demon that wants her and only her. She is going to have to fight for her freedom with the help of her mom which she just found out is a witch.
This book was very enjoyable I liked the concept and founded very creepy. I liked the paranormal aspect in this I had never heard about an incubus so, I really liked that I could learn about a new thing that goes bump in the night. Ashley's writing is amazing she really got some jumps out of me. With all that said I did have one little problem with it, I felt that it moved very quickly and at times I felt a little lost there was so much happening is such a short amount of time. Overall I really enjoyed this book and would recommend it to people who are looking for a quick, scary read.