Book Review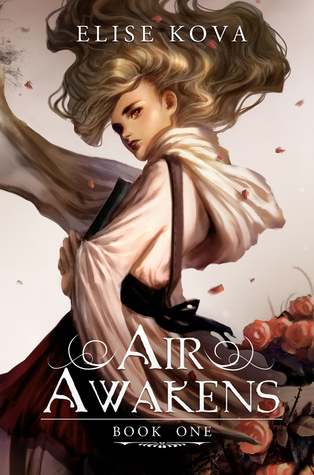 Title: Air Awakens (Air Awakens #1)
Author: Elise Kova
Date Published: August 27, 2015
Publisher: Silver Wing Press
Page Count: 377
Genre: YA Fantasy
Synopsis:
A library apprentice, a sorcerer prince, and an unbreakable magic bond...
The Solaris Empire is one conquest away from uniting the continent, and the rare elemental magic sleeping in seventeen-year-old library apprentice Vhalla Yarl could shift the tides of war.
Vhalla has always been taught to fear the Tower of Sorcerers, a mysterious magic society, and has been happy in her quiet world of books. But after she unknowingly saves the life of one of the most powerful sorcerers of them all—the Crown Prince Aldrik—she finds herself enticed into his world. Now she must decide her future: Embrace her sorcery and leave the life she's known, or eradicate her magic and remain as she's always been. And with powerful forces lurking in the shadows, Vhalla's indecision could cost her more than she ever imagined.
My Thoughts:
The author was kind enough to send me an ARC in exchange for an honest review.
Wow, where do I even start this book was amazing! I loved every second of it! I can't believe this is a debut novel Elise is such a brilliant writer and I'm so glad my friend Cassandra from cassandrareadsalot introduced me to this book; it has become one of my favorite series and I can't wait to dive into the second one. Vhalla Yearl is an library apprentice and she loves it, one day she is taken to The Tower were the Sorcerers live, people who she has been taught to fear since she was young and she is told she is one of them. Now Vhalla has to decide if she wants to join the people she has always feared or continue to be a library apprentice and be normal and while she has this very hard choice to make the dark and mysterious Prince Aldrik is not making her decision any easier.
Gosh, like I said in the beginning this book is amazing, I love everything about it! Vhalla is such a likable character and I loved the character development that she goes through in the book, she goes from a timid apprentice to a bad ass girl that will not let anyone mess with her; Oh, and the mysterious Prince Aldrik since before I knew who he was, I was already so intrigued and obsessed with him; as I read I also understood why he is so apprehensiveness about putting his guard down and letting people in, I also loved his sarcastic sense of humor he was just so perfect and I can't wait and see if book two reveals more about our dark, handsome prince. I loved Elise's writing once I began to read the book I couldn't put it down; it just draws you into this amazing world of magic and introduces you to characters that you wish you could pull out from the pages. I'm in love with this book and can't wait to see where the story goes; if you have not picked this book up yet, I highly recommend it! It's so good and everyone should read it!