Book Review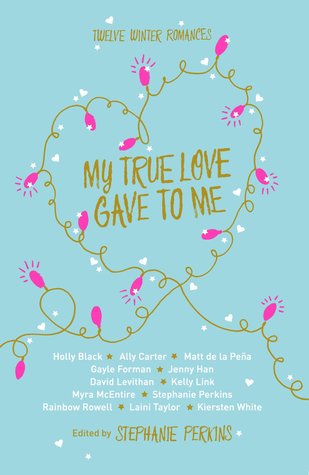 Title: My True Love Gave to Me
Author:
Stephanie Perkins

,

Holly Black

,

Ally Carter

,

Matt de la Pena

,

Gayle Forman

,

Jenny Ha

,

David Levithan

,

Kelly Link

,

Myra McEntire

,

Rainbow Rowell

,

Laini Taylor

,

Kiersten White
Date Published: October 14, 2014
Publisher:
Macmillan Children's Books
Page Count: 355
I really enjoyed this book I loved most of the short stories, but like most short story books there's bound to be some that you don't like. I'm going to leave a rating for each story below. Some stories were so cute and then there was some that had me thinking why is it even in this book. Also this book is a perfect winter/ Christmas read. Also that is the UK edition you can get it at Book Depository.
Midnight By: Rainbow Rowell. I Gave this story 4/5 stars I liked it but I didn't love it. It was very cute.
The Lady and the Fox By: Kelly Link. I gave this story 5/5 stars I loved it! Many people would disagree with me, but if these story was turned into a a full novel I would read it.
Angels in the Snow By: Matt De La Pena. I gave this story 1/5 I hated it the instalove i just honestly skimmed through it.
Polaris Is Where You'll Find Me By: Jenny Han. I gave this story 4.5 Start it was super quirky and cute.
It's a Yuletide Miracle, Charlie Brown By: Stephanie Perkins. I gave this story 5/5 stars I love it, Stephanie Perkins writing is just perfect.
Your Temporary Santa By: David Levithan. I gave this story 1/5 stars I had to force myself to get through it.
Krampuslauf By: Holly Black, I gave this story 1/5 stars. I dont even know what to say about this one I just didn't enjoy it.
What the Hell Have You Done, Sophie Roth? By: Gayle Forman. I gave this one 4/5, It was so cute.
Beer Buckets and Baby Jesus By: Myra Mcentire. 3/5 It was ok.
Welcome to Christmas, CA By: Kiersten White. 5/5 I loved this story I just couldn't get enough.
Star if Bethlehem By Ally Carter 3.5/5.
The Girl Who Woke the Dreamer By: Laini Taylor. 2/5 I just felt like this story was all over the place.