Book Review
Title: Detour
Author: Kacey Shea
Rating: ★★★★★
Release Date: June 1, 2017
Genre: Romance
Synopsis:
Trent Donavan is the golden boy of the rock world. As lead singer of Three Ugly Guys, he's every fangirl's dream, and with his newfound fame the women flow as readily as alcohol and drugs. There's no doubt women are Trent's preferred indulgence after a successful show.
That is, until the feisty little blonde joins the tour.
Lexi Marx loves music. It runs in her blood and flows through her soul. As the illegitimate daughter of a rock legend, she's determined to make it in the music industry on talent alone. So when her agent scores her the opening act gig for the next 3UG tour it seems her hard work, hopes, and dreams have finally come to fruition.
Until she spends time with the band. More accurately, Trent Donovan. She'd feel better if that arrogant manwhore of a lead singer would stop hitting on her with his dreamy eyes, witty comebacks, and voice that melts the most jagged of hearts.
But Trent is determined to prove to Lexi he's not such a bad guy, and as music binds their friendship, Lexi's left with the most confusing of emotions. Could this be love or an uninvited distraction? She can still have it all, if only her heart doesn't lead her off track.
MY Thoughts

:
An ARC was sent to me by the author in exchange for an honest review.
I finished this book in two days and that was only because I had to take breaks, I think if I would have been uninterrupted, I could have finished it in one sitting. I've always enjoyed Kacey Shea's books and Detour was no exception. I first met the boys from 3UG in her first novel Uncovering Love and I never knew how much they needed their own book until now. I absolutely fell in love with the boys and can't wait to read more about them!
This novel is told in dual perspective! I always enjoy books like this because it lets me in both the characters heads. Lexi is the daughter of a rock legend, but she doesn't want anyone to know because she wants to make it in the music world all on her own. Lexi was a complex character and did get on my nerves once in a while, but that girl is as tough as nails! The things she had been through made me understand why she was so closed off and did not want to let her guard down. The character development she goes through is very well written and made me like her a lot at the end. Trent oh, Trent! Trent is the lead singer in 3UG and he loves women more than anything so, being a rock star is perfect for him; women love him and will do anything to end the night on his bed and that's just okay in Trent's book. Until he meets Lexi he just can't stay away from her and sleeping with other women just doesn't feel right anymore. I really liked Trent even with his man-whore ways, he was laid back and had me cracking up with his antics! He also goes through some great character development that made me love him more than I already did!
I really enjoyed reading about 3UG and Lexi! I loved the story and how everything turned out at the end. There were some chapters that had me in tears and other that had me cracking up! I really liked to see how it is when bands go on tour and how crazy it can get. Like I've already said I really fell for 3UG and I'm glad that there are more books coming because when I got to that last page on the book all I said was 'wait there isn't more?' I want more and I'm happy Kacey is giving it to us especially since the next one revolves around my favorite 3UG! This book is a light read that has you cracking up with all the antics the band does, but it also has a story that pulls at your heartstrings. Kacey you have done it again and I can't wait to read more of your work!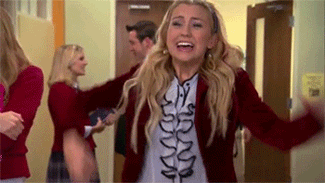 When Kacey told me there was more!