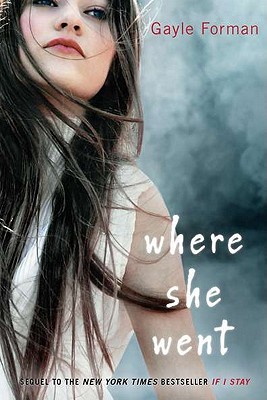 Title: Where She Went
Author: Gayle Forman
Date Published: April 5, 2011
Publisher: Dutton Juvenile
Page Count: 264
Synopsis:
It's been three years since the devastating accident . . . three years since Mia walked out of Adam's life forever.
Now living on opposite coasts, Mia is Juilliard's rising star and Adam is LA tabloid fodder, thanks to his new rock star status and celebrity girlfriend. When Adam gets stuck in New York by himself, chance brings the couple together again, for one last night. As they explore the city that has become Mia's home, Adam and Mia revisit the past and open their hearts to the future - and each other.
The Feels in this book guys the feels, it's been three years since the accident and three years since Mia left Adam. Adam became a rock star and Mia is in Juilliard slowly becoming a star. One night while Adam is out in New York alone trying to clear his head after a major break down in front of a reporter, he finds out that Mia is playing a concert he decided to go and watch her thinking that he wouldn't be spotted by her. After the concert Mia and Adam spent the night together revisiting the past and trying to figure out what went wrong.
I went into this book expecting a love story oh was I slapped in the face. I loved reading from Adams perspective and finding out how he felt and feels about Mia and the accident. I felt so bad for Adam in this book I just wanted to reach in and comfort him, he had it so rough after Mia just up and left him. I think I liked this book better than the first one, it kind of shows how something so tragic doesn't only affect the person involved but also the people around them. Gayle Forman really got me where it hurts but she made it up by giving this book an amazing ending. Overall I recommend this book to anyone that has read the first one, and if you haven't picked up this series you really should. I hope Forman writes a third book about Mia and what she did during those three years!